You are here:

News /

Royal William Yard...
Royal William Yard lit up to celebrate Illuminate 2017!
Posted on: 25 Jul 2018
The highlight of the event was a mass participation light performance with Xylobands, (famously used by Coldplay as part of their live performances) with hundreds taking part in the dance and light activity.Xylobands are the original and brightest radio-controlled LED wristband that work by creating multiple flash patterns with RGB colour changing LEDs. The mass light performance was led by choreographers from the Street Factory and the Barbican Theatre transformed the Royal William Yard into a magnificent travelling light show.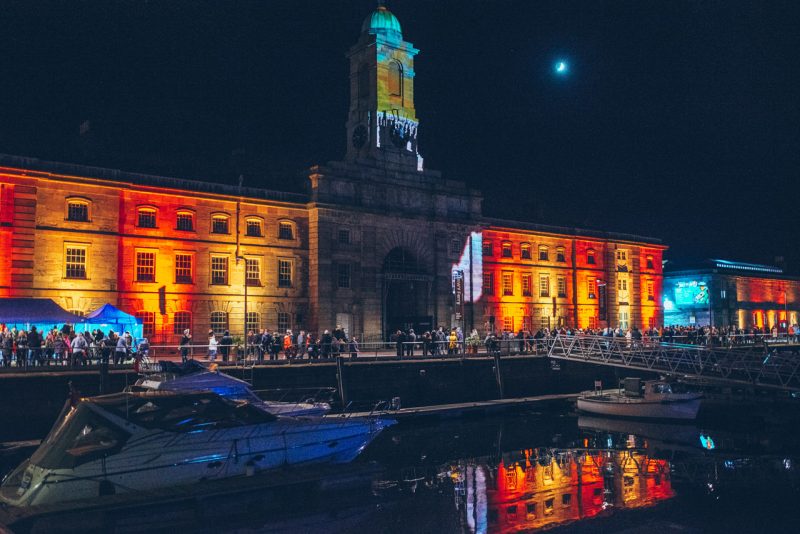 Illuminate marks the anniversary of the sailing of The Mayflower for America - which set sail from Plymouth in 1620, reaching (the later renamed) Plymouth Massachusetts 66 days later. The event is celebrated across America (the origins of 'Thanksgiving') with ties between Plymouth UK and Plymouth Massachusetts growing ever stronger ahead of the 400th anniversary in 2020.

On 23 November Plymouth's Lord Mayor kicked off festivities with the Legacy Choir at the Yard, which was candle lit for the anniversary. Then on 24 November there was a series of Xyloband mass participation light performances at 6.30pm, 7.30pm & 8.30pmLight projections were designed and mapped by The Media Workshop and Plymouth College of Art, who as part of the European funded project Euranium, will be working in collaboration with animation students from across France, Belgium, Hungary, Denmark and Finland.Light Art installations and visual pieces also formed part of the event, created by the staff and students from the University of Plymouth's School of Art, Design and Architecture, led by Professor Chris Bennewith who was formerly Creative Director for Wellington's LUX Light Festival in New Zealand and has worked both in the UK and internationally on major light events.