You are here:

News /

PAINTING THE EARTH...
PAINTING THE EARTH WITH GRANITE AND AMBER
Posted on: 25 Jul 2018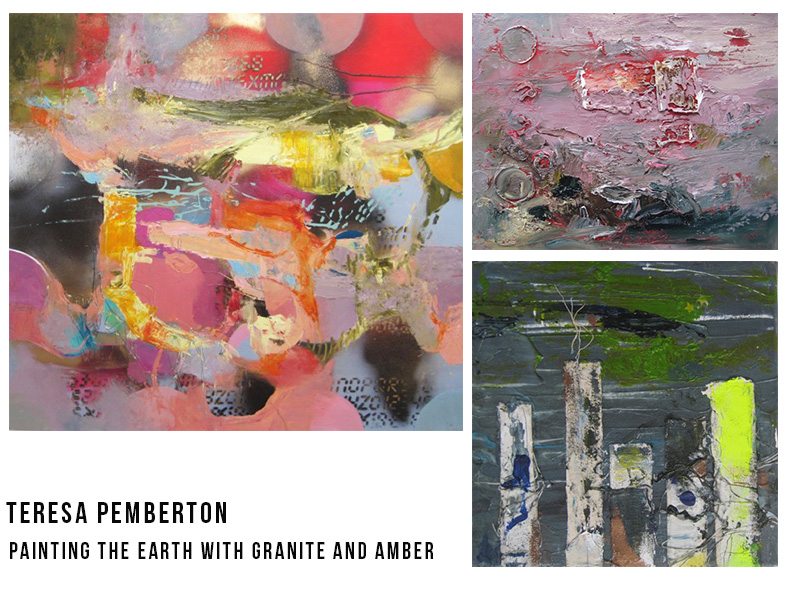 A solo exhibition by Teresa Pemberton
25 November - 18 December Wed-Sun 12-5, Free.

An artistic response to the remote site of Whitehorse Hill on Dartmoor where recent treasures from the Bronze Age 4,000 years ago were unearthed from a small burial cist (or grave). Whose bones? Whose amber beads? Whose basket? A tribal queen or princess, the identity of this young woman is gone for ever and we can only imagine what life was like then.
Inspired by the foreboding landscape and the beautiful artefacts discovered there, the work exhibited here is a contemporary consideration of the treasures that are to be found under the surface as we walk over the moors. Teresa has painted the atmospheric moor in mist and in sun showing patterns of field and granite, stones, walls and water. The idea of surface is contained within the work referencing the spaces above and below ground. Collaged elements are used to evoke that sense of "beyond what is known" invoking a feeling of mystery and beauty.
The Gallery is a beautiful renovated space reclaimed from the derelict Factory Cooperage in the Royal William Yard where barrels were made for the Navy in the 1800s: the building retains an atmosphere of historic grandeur.
OCEAN STUDIOS EXHIBITION SPACE
FACTORY COOPERAGE
ROYAL WILLIAM YARD
DEVONPORT PLYMOUTH PL1 3RP
Teresa Pemberton
http://www.teresapembertonarts.com/
RWA.org.uk/rwa-artist-network/p/pemberton-teresa/